Welcome to Rotterdam: a young, dynamic metropolis in continuous and rapid renewing itself. A city with sparkling skyscrapers, a world-class port, famous museums, awesome festivals, trendy restaurants and fabulous food markets – each the product of Rotterdammers and their celebrated "can-do" mentality.
Experience the city's many extraordinary attractions and tours – by bike, bus, boat or on foot – and you'll see why Rotterdam' was voted one of the world's top ten cities in Lonely Planet's Best in Travel 2016.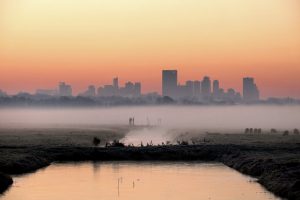 Innovation
After the bombing of the Second World War, Rotterdam reinvented itself with characteristic energy and innovation. Working under a then ground-breaking motto – light, air and space – it broke with the past and welcomed the new age. And in a city that still embraces experimentation, anything is possible. From a rooftop city farm to a music festival in the harbour, from an exclusive rooftop bar to a brewery in a former warehouse, you'll be enthralled by its vigour and inventiveness.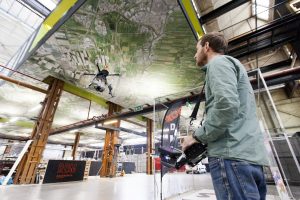 City of architecture
If you love architecture, Rotterdam won't disappoint you. Its patchwork of styles combines icons of the Nieuwe Bouwen (c. 1920-1960) with buildings of the post-war reconstruction period (c. 1960-1980). These clash cheerfully with the hypermodern landmarks of recent decades Erasmusbrug, Rotterdam Central Station, De Rotterdam building, and the Timmerhuis complex. Then, of course, there's the Markthal: In the first indoor market hall in the Netherlands. Here, alongside, nearly 100 stalls selling fresh produce you'll find food shops and a range of restaurants that includes Jamie Oliver's Jamie's Italian. When you're there, don't forget to look up: on the ceiling is artwork in the Netherlands, Arno Coenen's Horn of Plenty.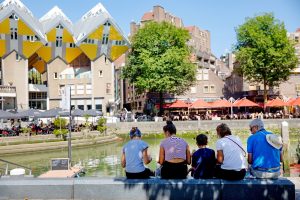 Port City
As a port city, Rotterdam has indissoluble ties to the water. The Maas River flows through the city, supplying its many harbours, such as historic Delfshaven. Downstream, these merge seamlessly with the industrial port, which stretches 40 kilometres to Hoek van Holland and the new harbour complex at Maasvlakte 2.